Are you ready to unlock the full potential of your online presence? Discover why partnering with Revelate is a game-changing decision. With our 10 years of experience, over 300 successful projects, and expertise in web development, SEO, PPC, content marketing, email marketing, and social media, we are here to propel your business to new heights.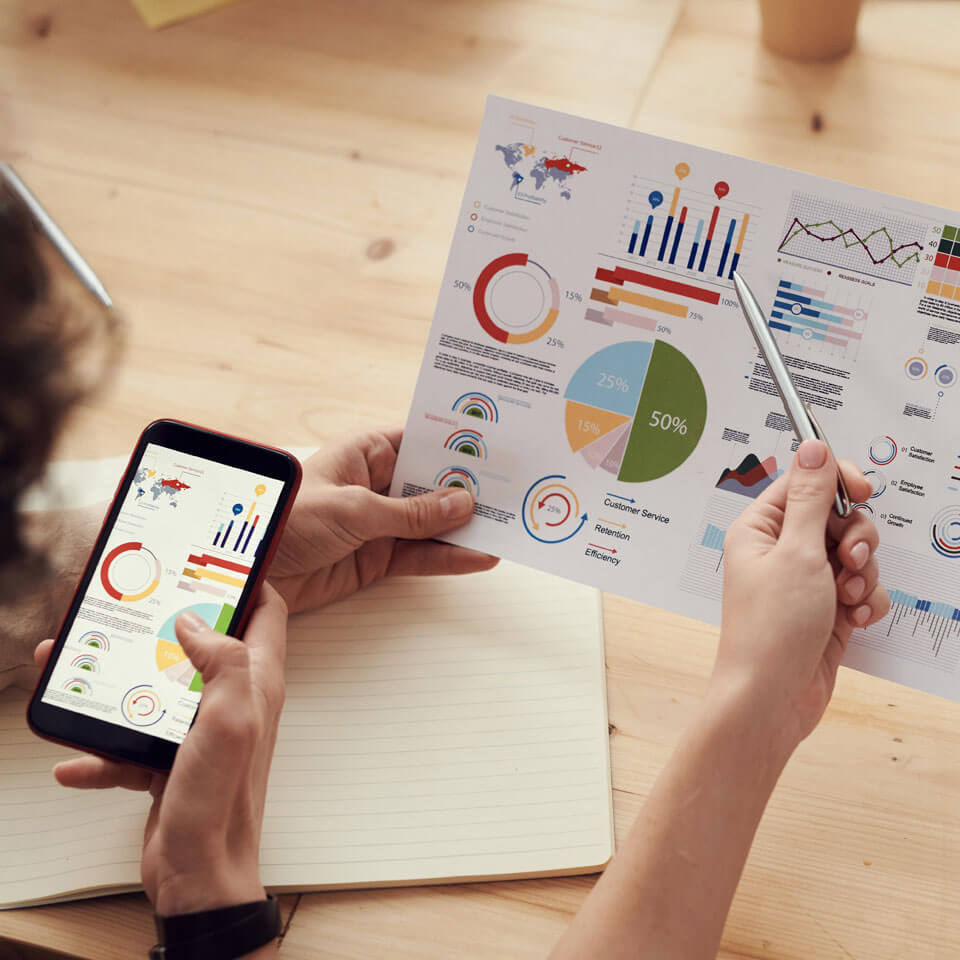 Running a business is difficult and time consuming, staying on top of digital marketing trends, staying up to date on the latest software and tools that can give you an edge as well as marketing algorithm changes that affect your sales makes it even harder. Luckily those are jobs that we can take off your hands giving you more time to focus on the things you're best at, making sure you make more sales for every euro you spend and giving you a comprehensive, effective approach to your digital marketing.
At Revelate we can offer a full service digital marketing operation for your business meaning that all elements from PPC, Social, Email and website work together to improve each other and make the whole strategy stronger and deliver better results for you. Over a decade of experience across over 200 companies in various industries means we have a wealth of knowledge that can be applied to your marketing efforts.
5 Reasons to Choose Revelate
Track Record of Success
We have worked with over 200 customers over the last 10 years on projects large and small with some clients staying with us for over 5 years. From one off projects like web design, consultancy or training days to long term projects that involve a whole range of marketing avenues and building brands online we bring our expertise and dedication to getting positive results to all our customers. We understand that at the end of the day we are there to help your company grow and we are focused on making sure that happens for you within budget and on time.
Conversion Focused
Whether it's e-commerce or services you're selling our guiding principal is to focus on conversions so that you see a return on your money. While some SEO agencies only focus on spiking traffic, or social media management companies just focus on likes and follows we understand that those aren't important if the sales don't follow. We focus on getting the right traffic to your platforms so that you can get buyers looking at you and then deciding to purchase.

From the beginning we focus on getting the people who might be interested in your product/service to see your business, then we move them on to one of your platforms (social pages, website, newsletter) where we can focus our marketing efforts on getting them to a point they want to buy. Finally with our web development team we make sure that buying is a straightforward and easy process.
Technical Expertise
While just about anyone can put up a post on social media or write an email that won't mean it will be effective. Not only do we have experience in creating content that engages customers and leads to conversions we constantly stay on top of the latest latest research and case studies that show us where digital marketing is and where it's heading. The digital landscape is constantly changing as social media and search sites change their algorithms for what customers see, trends become out dated and old tactics become less effective over time. Agencies who don't stay current on these changes are going to be left behind and passed out by agencies like us that do.
Custom Plans
Every business is unique, they each have their own strengths, selling points and stories to tell. We don't use a template for every one of our customers instead we take the time to get to know each business, what they do well and where they can build on their strengths and where they need to improve. We work with your to craft a set of goals to achieve that work best for you. Some companies need to focus on several different types of customers and this means crafting a plan which appeals to each one of those customer groups as distinct groups while still building an overall strategy that makes sense for all of them.

We know from our work over the years that this approach is much more effective than using the same general plan for every customer we work with. It allows us, and you, to get the most value out of the work we do.
Transparency
When we take over companies digital marketing from other agencies one issue comes up more than any other: lack of transparency. Vague bills where clients aren't sure what they are paying for, no clear idea of what work is being done, no reporting of results, no client access to their own analytics and other shady behaviour. When agencies act like this it's a clear sign that something is wrong, when we work with clients we are always happy to be reporting on our work and making sure that clients have access, and the understanding, to double check that what we are telling them is accurate.

We are always proud to stand behind our work and the value we provide because we know that we do our work well and that clients that can see and verify that for themselves are clients that will work with us for the long term.
Services We Offer
Web Development
The importance of high quality digital marketing for businesses continues to grow every year, your business needs a web design partner that stands head and shoulders above the rest. That's where Revelate comes in. With our unrivalled web design service, we create fast loading, great looking websites that get results. We go beyond just looks to create great websites that drive unparalleled results. By leveraging our data-driven approach and rich experience, we craft websites that not only capture attention but also drive increased conversions, skyrocketing your sales and propelling your business to new heights of success.

We push boundaries by harnessing the latest technological advancements. Our websites seamlessly adapt to any device, delivering an immersive user experience that keeps visitors hooked from the first click to the final conversion. Our innovative technologies and tools are the secret ingredients that set our websites apart from the competition. With us, you'll have a cutting-edge online presence that outshines industry standards and sets the stage for unprecedented success.

When you choose Revelate, you're not just hiring a web design service; you're forming a dynamic partnership. We work tirelessly to stay at the forefront of industry trends, constantly optimizing your website and ensuring it evolves alongside your business. With our unwavering commitment to your long-term success, we become your trusted ally in navigating the ever-changing digital landscape.

Your business needs a web design partner that can unleash the full power of your online presence. With Revelate, you can transform your business into a digital force to be reckoned with. Join the ranks of countless satisfied clients across diverse industries in Ireland, the UK, the US, and Canada who have experienced firsthand the transformative results of our web design service. Take the first step towards more success and contact us today. Together, let's unleash the true potential of your business in the digital world.
E-Commerce
At Revelate we craft e-commerce websites that convert visitors into loyal customers. Our approach revolves around the art of conversion rate optimization—a balance of data-driven analysis, marketing experience, and design finesse. By delving into the numbers, we uncover valuable insights into customer behaviour and preferences, enabling us to create an engaging online journey that increases sales.

But success in e-commerce goes beyond numbers. We understand that your online store is an extension of your vision and values. That's why we work closely with you and learn about you and your business to ensure that your online store truly reflects your unique identity. Through open dialogue we create an online experience that resonates with your audience, fostering lasting connections.

Technical expertise is the backbone of our services. We have a deep understanding of e-commerce technologies and platforms from the many successful projects we've completed in the past. From crafting seamless user interfaces to optimizing performance and security, we navigate the complex technological landscape with finesse. With our technical prowess, we transform your online store into a reliable shopping destination, instilling trust and confidence in your customers.

Experience is the foundation of our success. With a rich portfolio spanning various industries, we bring a wealth of knowledge and industry-specific insights to the table. Whether you're in fashion, technology, or beyond, we understand the unique challenges and opportunities you face. By combining our e-commerce expertise with your business goals, we develop tailored strategies that drive tangible growth for your online store.

When you choose Revelate, you're selecting a partner genuinely invested in your success. Our relentless pursuit of excellence drives us to push boundaries and exceed expectations. Together, let's unlock the true potential of your business and long lasting success for your e-commerce
SEO
With over a decade of experience and a proven track record of success, Revelate is your trusted SEO partner. We combine data-driven strategies with cutting-edge techniques to elevate your website's visibility and propel it to the top of search engine results pages. Our expertise spans a wide range of industries, allowing us to tailor our approach to your specific niche and deliver exceptional results.

We believe in the power of collaboration and communication. By working closely with you, we gain a deep understanding of your business goals, target audience, and industry landscape. This allows us to develop personalized SEO strategies that align with your unique objectives and drive sustainable growth. Our transparent and collaborative approach ensures that you are involved every step of the way.

Technical expertise is the foundation of our SEO services. Our team of SEO specialists stays ahead of the curve, continuously adapting to the ever-changing search algorithms and industry best practices. From on-page optimization to keyword research, link building, and content creation, we implement a holistic SEO approach to enhance your website's visibility, improve user experience, and increase organic traffic.

Partnering with Revelate means gaining a dedicated SEO partner committed to your online success. We leverage our expertise, experience, and industry insights to position your website for long-term growth and increased online visibility. Let us navigate the complexities of SEO while you focus on running your business. Together, we'll dominate the digital landscape and achieve remarkable results.
Social Media Management
At Revelate, we understand the power of social media in building brand awareness, fostering customer relationships, and driving conversions. With a decade of experience and many successful projects, we have honed our craft and delivered exceptional results. We are a full-service agency with a deep understanding of diverse industries, including e-commerce, service businesses, and more.

When it comes to social media management, we have you covered on all fronts. From crafting engaging posts that resonate with your target audience to strategically planning and executing paid ads, we ensure your social media presence thrives. Our data-driven approach, combined with our creativity, allows us to curate compelling content that sparks conversations, ignites engagement, and propels your brand forward.

Paid social media advertising is a powerful tool in your marketing arsenal, and we know how to leverage it to deliver results. We conduct thorough audience research, identify the most effective platforms, and create captivating ad campaigns that drive traffic, generate leads, and boost sales. Our focus is always on maximizing your return on investment and achieving your specific business objectives.
Email Marketing
Email marketing remains a cornerstone of successful marketing strategies, providing a direct and powerful channel to engage with your audience. At Revelate, we excel in the art of email marketing, delivering outstanding results for businesses like yours. Here's why partnering with us will revolutionize your marketing efforts.

Email marketing holds unparalleled potential for connecting with your target audience. As experts in this field, we understand that every email presents an opportunity to nurture leads, build brand loyalty, and drive conversions. At Revelate is skilled at crafting compelling and impactful email campaigns that resonate with your subscribers, delivering messages that inspire action.

We take a meticulous approach to personalization, recognizing that each subscriber is unique and requires tailored content. By segmenting your audience and leveraging data-driven insights, we ensure that every email feels personal and relevant. This personalized touch fosters stronger connections and increases the likelihood of engagement and conversions.

At Revelate, we understand that design plays a crucial role in capturing your subscribers' attention. Our team of talented designers creates visually stunning email templates that align with your brand's identity. From eye-catching visuals to persuasive copy, we ensure that every element of your email captures your audience's interest and compels them to take the desired action.
PPC: AdWords and Bing
When it comes to leveraging the power of pay-per-click (PPC) advertising on platforms like Bing and Google AdWords, Revelate stands as your trusted partner in driving exceptional results for your brand. Our unique strengths and expertise in crafting robust PPC campaigns set us apart. Here's why collaborating with us will revolutionize your advertising endeavors.

We excel in the art of strategic campaign planning, utilizing data-driven insights and industry expertise to create PPC strategies that deliver maximum impact. By conducting in-depth audience research and competitive analysis, we uncover untapped opportunities that allow us to position your brand in front of the right audience, precisely when they are seeking your products or services.

We are well-versed in optimizing ad performance to maximize your return on investment. We meticulously fine-tune your campaigns, constantly monitoring and analyzing key metrics to identify areas of improvement. By refining targeting parameters, refining ad copy, and implementing conversion-focused landing pages, we ensure that your ads resonate with your audience and drive measurable results.

At Revelate, we understand the importance of captivating and persuasive ad creatives. Our team of creative minds combines compelling copywriting with captivating visuals to craft ads that truly engage your target audience. We emphasize the unique selling points of your brand, creating an irresistible call-to-action that motivates users to click, explore, and convert.

What sets us apart is our unwavering commitment to continuous improvement. We stay up-to-date with the latest trends, emerging technologies, and industry best practices in PPC advertising. This allows us to implement innovative strategies, leveraging cutting-edge tools and techniques to optimize your campaigns and keep you ahead of the competition.
Analytics
Data-driven insights are the heartbeat of effective marketing campaigns. At Revelate, we understand that analytics hold the potential to unravel hidden opportunities and shape informed decisions. Our team of experts excels at diving deep into the numbers, uncovering valuable insights that pave the way for targeted strategies and enhanced performance.

With a meticulous and strategic approach, we transform raw data into actionable intelligence. We navigate through complex metrics, identifying trends, patterns, and customer behavior that enable us to optimize your marketing efforts. From website traffic to user engagement and conversion rates, we leave no stone unturned in our quest to unravel valuable insights that fuel your success.

One of our greatest strengths lies in our ability to translate data into personalized strategies. We understand that each business is unique, with specific goals and target audiences. By immersing ourselves in your brand, we craft bespoke strategies that align with your objectives and resonate with your customers. This personalized approach ensures that every campaign is tailored to maximize your desired outcomes.

But it's not just about the numbers—communication is at the heart of what we do. We go beyond delivering data and insights; we provide clear and concise explanations, empowering you to make informed decisions. Our team takes the time to walk you through the analytics, ensuring you understand the story behind the numbers and the actionable steps required to drive your marketing success.

At Revelate, we stay at the forefront of technological advancements and emerging trends. We leverage cutting-edge tools and platforms to gather, analyze, and visualize data. By staying one step ahead, we ensure that you have a competitive edge, making data-driven decisions that keep you ahead of the curve in an ever-evolving digital landscape.